Detailed and Affordable Termite Inspections and Reports
Allseasons Carpet Cleaning and Pest Control are a family-owned business specialising in termite inspections and termite treatments. Our termite inspection services are available across the Sunshine Coast, Gympie and Moreton Bay region and we provide a detailed report following all inspections so that you have a thorough understanding of your home's termite situation. Visit our FAQs page for more information regarding our pest control services.
An Allseasons termite inspection is completed to all Australian standards and our technicians are fully QBCC licenced (15024770). It covers a thorough inspection of your property including the interior and exterior of your house, garden landscaping area, roof void (if accessible), fences and any trees in the immediate locality (within 30 metres of the building). You report will detail all the areas that have been inspected and our findings; if necessary we will recommend a termite treatment or management option for your property.
It is extremely important to keep up yearly inspections for termites, particularly in tropical or sub-tropical environments such as the Sunshine Coast. To book your inspection give Allseasons Carpet Cleaning and Pest Management a call on 1300 790 177.
Moving House?
It is usually a condition in the sale of your home to have a termite inspection report included. Our reports are highly detailed and meet the criteria of the prospective buyer. We understand that time is sensitive in these situations, and we're happy to put together an inspection report as quickly as possible, to ensure a hassle-free property handover.
How do I tell if I have termites?
If you haven't physically seen any termites or noticed any grey or brown mud-like streaks on any surfaces, you can check by brushing an object against your skirting boards, specifically in wetter areas as these are common breeding grounds for pests. If your skirting boards give in or are flimsy and weak, it's evident that you may have termites and we recommend calling us to organise an inspection.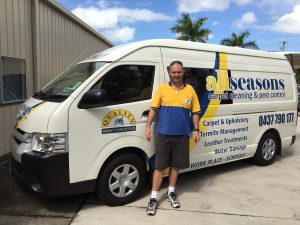 Book a Termite Inspection
If you think you might have termites on your property, don't panic! Give Allseasons a call on 1300 790 177.